We have created Kaffelogic Nano 7 so that you can roast your own coffee wherever you want, whether at home or in your office.
Add a cup of green beans, hit the start button and enjoy the freshly roasted coffee experience after 12 minutes.
Roasting control reshaped
We were dissatisfied with the traditional way of automating coffee roasting, so we started over and invented a better way. The result: Kaffelogic outperforms other automated systems in realizing the full potential of each core.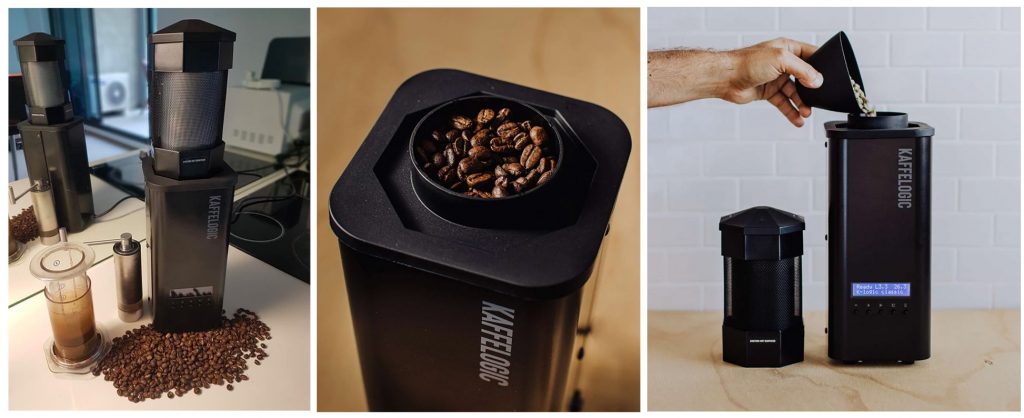 FOR THE HOME USERS We designed the Nano 7 to suit your kitchen and your busy life. It is the only roaster in its class with one-touch operation and designed to fit on your kitchen bench. You no longer need to keep a supply of roasted coffee in the house for those unexpected visitors. With Kaffelogic Ready to Drink roast profiles you can go from green bean to brew in just 12 minutes. Roast on demand is now a reality. We respect your intelligence. It is easy to use, but we haven't dumbed it down for the home consumer. We sell you the same machine that we sell to professionals for commercial sample roasting. With Kaffelogic you don't sacrifice quality when you roast at home. Plus we give you full access to our professional profile development software Kaffelogic Studio, so you can dig deep into profile design if that's your thing.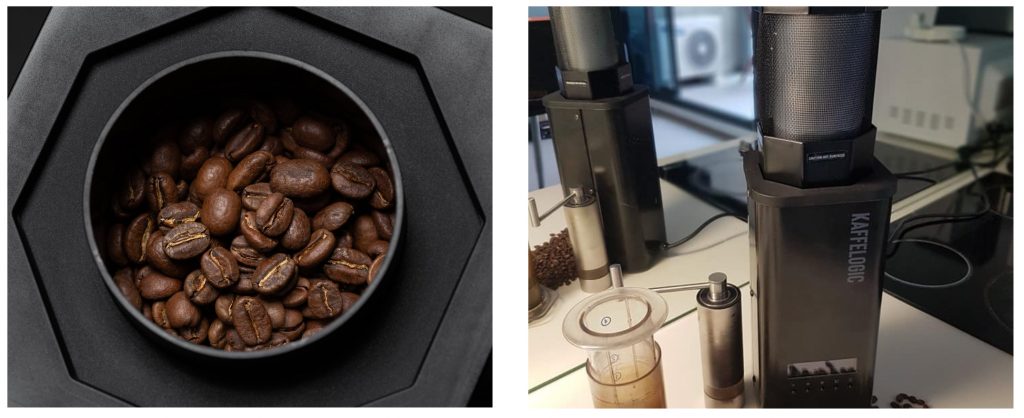 FOR THE PROFESSIONALS The industry standard 100g batch size is perfect for sample roasting. It is capable of continuous back-to-back sample roasting with each sample running unattended. Lets you power through the samples with confidence. Zero installation saves big bucks. Robust modular construction makes maintenance and upgrades straightforward. Kaffelogic Studio, world-leading profile editing software, lets you experiment and discover the best way to roast a particular coffee. And when you have hit the sweet spot, it features customisable transformations and exports to Artisan, Cropster, and Sonofresco™. Helping you get those fantastic profiles into production.

THE CHOICE OF CHAMPIONS
Kaffelogic was the roaster of choice for the winner of the 2021 Brewers Cup Championship held in Milan, Italy. Matt Winton, representing Switzerland, used Kaffelogic in his successful title bid.
You too can be a coffee champion in your own home!
"My coach and friend @drink.coffee.witme has a special project running with the team at @kaffelogic_roasting where they have customised a NANO7 roaster and done something truly incredible.
As soon as Sam and I started working together, @wayne_burrows organised a unit to be sent to me, and all 3 of us calibrated our roasters to the same settings and we were able to roast identically, all the way across the world, so that when we brewed on the same water (thanks to gaquacode_brew for that!) we could speak the same language and know that we were tasting the same thing, despite being thousands of kilometres away.
When we got to Milan, we started to breakdown all our variables, and rebuild the brew from scratch. Thanks to Sam's experience, and the versatility of the Kaffeelogic roaster, we were able to make lightning quick changes to the roast profile of both coffees, and then reintroduce them to the blend to great effect! Sam was able to highlight specific aspects of each of the coffees so they were harmonised in the blend I am still in awe of his abilities to roast and blend so well, out of this amazing little roaster. The quality of the results speak for themselves.
In the final brew we used a combination of roasts of each coffee from both roasters, which gave a greater depth to the quality of flavours and attributes. We managed to get even more acidity and florals out of the Catucai than before, and from the same roast profile, a very clean expression of the Eugenioides.
I'm so impressed by the work Wayne has done to produce a roaster that is affordable, able to be synchronised around the world, and produce incredibly high quality results – even at i day off roast"
– Matt Winton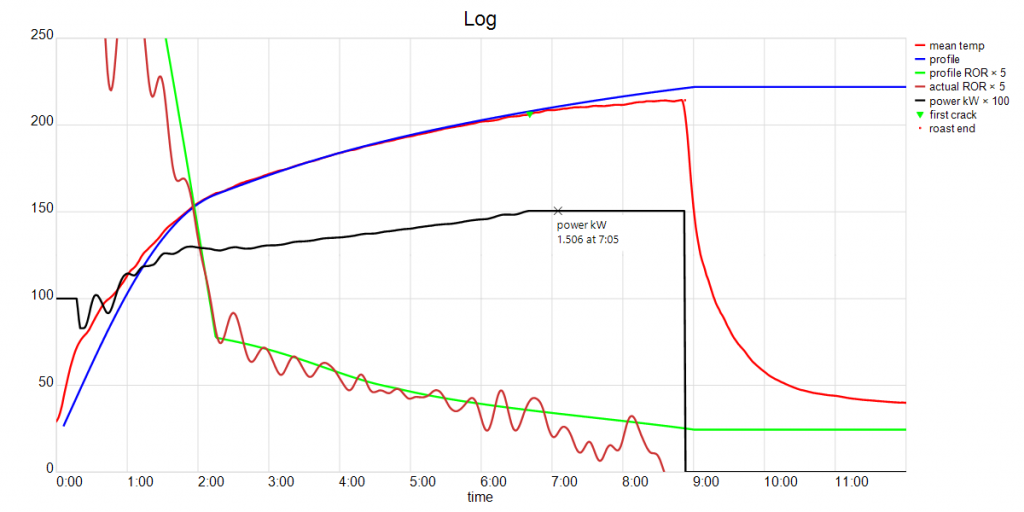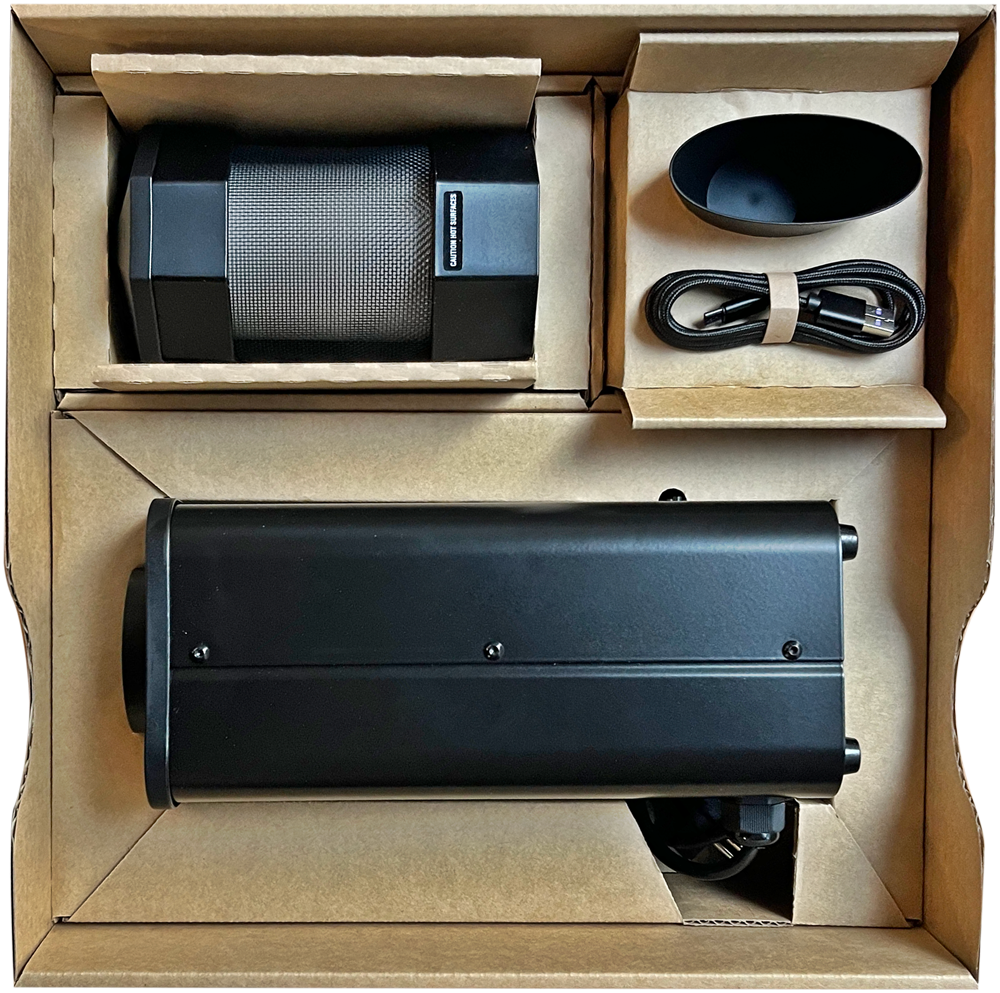 What's in the box?
Base unit
The base unit contains the roasting chamber, heater, fan, and roast microcontroller. It also has a display screen and simple, intuitive controls.
Chaff collector
The classic chaff collector consists of a black anodised aluminium chimney surrounded by an enameled black aluminium mesh, held together by a black nylon frame and lid.
Chaff is carried away from the roasted coffee and collects in the mesh area surrounding the chimney.
The lid comes off and the chimney slides out for emptying and cleaning.
USB Port / Cable
All you need to do to keep your profiles is to transfer your logs and profiles to your laptop/PC using the device's USB port. It is also the way to transfer logs and profiles back and forth from roaster to laptop.
Measuring scoop
The scoop means you can easily load the roaster without the need to weigh out the beans. Any variation in weight is taken up the the roast control system. All you have to do is scoop, pour, click.
Instruction book
Brief instructions to get you started safely on your roasting journey.